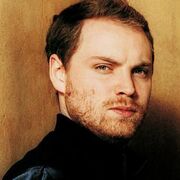 Jonny Buckland
Edit
Jonny Buckland
Background information
Born
11 September 1977 (age 40)


Islington, London, England

Genres
Alternative rock
Occupation(s)
Guitarist, musician, saxophone player, multi-instrumentalist,
Instruments
electric guitar, acoustic guitar,sitar, lute, mandolin, vocals,piano, keyboards, saxophone
Years active
1995–present
Labels
Parlophone, Capitol
Associated acts
Coldplay
Notable instruments
Fender Thinline Telecaster, Gibson ES-335,Fender Stratocaster, Gibson Les Paul, Fender Jazzmaster, Fender Jaguar
Jonathan Mark "Jonny" Buckland (born 11 September 1977) is an English musician and multi-instrumentalist, best known as the lead guitarist of the band Coldplay.
Contents
Edit
1 Early life
2 Solo work
3 Guitar style
4 Personal life
5 References
6 External links
Early life
Edit
Buckland was born in Islington, London. He lived there until the age of four when his family moved to Pantymwyn, North Wales.[1] Jonny started playing the guitar at the age of eleven, after being spurred on by The Stone Roses, Ride, George Harrison, U2, and My Bloody Valentine, while being encouraged by his older brother Tim.[1] He was a student at Ysgol y Waun and Alun School, the latter located in the Welsh town of Mold; moving on to study astronomy and mathematics at University College London, where he also met his future bandmates — Chris Martin, Guy Berryman, Will Champion (as well as their future manager Phil Harvey) — and formed Coldplay.
Buckland is noted for his sparse arrangements and use of slide. His stylistic chiming and ringing sound have led to some comparisons with the playing of U2's The Edge.[2][3]
Solo Work
Edit
Buckland has guested on Ian McCulloch's solo album Slideling and made a cameo appearance with band mate Chris Martin in the film Shaun of the Dead.
Guitar Style
Edit
Buckland largely uses the Telecaster Thinline 72' as his primary electric guitar, as seen mainly in the albums Viva la Vida or Death and All His Friends, [X&Y]], and Mylo Xyloto. Buckland uses the Fender Stratocaster for his secondary guitar, but he has made clear that the Telecaster series is his favorite. Buckland's guitar style is mainly based on U2's The Edge's guitar sound, which consists mainly of ringing, conservative notation, various amps and distorters, and musical rawness. Buckland's guitar-playing style has inspired many other bands to adopt a similar technique, such as The Fray's Joe King, The Killers, and Pat Monahan from Train on some songs. The Edge himself stated in an interview at Glastonbury: "[Jonny Buckland] is an inspiration to guitar players everywhere, and I am proud to know that I was one of his main influences. (laughs) It makes me feel like a real rock star."
Personal Life
Edit
Buckland is a fan of Tottenham Hotspur F.C.[4] Buckland was a vegetarian for some time, but eventually gave up after spending some time in Japan and, after not being able to communicate that he didn't eat meat, was served beef and found that he really liked it.[5] Buckland's brother Tim and his band The Domino State supported Coldplay at the O2 in December 2008.[6] Buckland had a daughter, Violet, in 2007 and a son named Jonah in 2011 with Chloe Evans, whom he eventually married in 2009.
Community content is available under
CC-BY-SA
unless otherwise noted.