"Gravity" is a song by Coldplay and the first B-Side track of "Talk" single. The song is also featured as the lead single of Embrace's 2004 studio album, Out of Nothing.
Background and recording
The song was written by all Coldplay members and it was first performed live during the A Rush of Blood to the Head Tour in 2002. After that time, Chris Martin gave the song to English rock band Embrace, who released the song as the lead single of their fourth studio album, Out of Nothing, in 2004.
Danny McNamara, lead singer of Embrace, revealed that Chis played the song to him a few times before and he loved it. He explained, "[Chris] was always a bit ambivalent about [the song]. In the end I think he thought it owed too much to Embrace for them to have on their album. I disagreed really strongly and when he rang me up to offer me the song I was really reluctant at first [...] Then along came the argument that we'd be crazy to not at least record it to see if it turned out any good or not. The irony is [...] at the end of the session there seemed to be a hole in the album which 'Gravity' fitted perfectly. We had all the arguments that you would expect about doing a cover after so long away etc etc… but at the end of the day that seemed to be more about pride and ego than what was best for the record."[1]
Although the song was ultimately given to Embrace, the band decided to record and release their original version in 2005 as the first B-Side track on the "Talk" single, along with "Sleeping Sun".
Composition
In a ranking of the band's entire discography, in celebration of the 20th anniversary of the release of Parachutes, NME reviewed the song, wroting: "[...] the cinematic space-rock of it all channelling some of the finest melancholy of 'Parachutes'. Existentialism is rife, with words on heartbeats and the sun and the sky, on the push and pull of gravity that, as ever, brings two bodies together, and forces them apart."[2]
Lyrics
[Verse 1]
Baby, it's been a long time coming
Such a long, long time
And I can't stop running
Such a long, long time
Can you hear my heart beating?
Can you hear that sound?
'Cause I can't help thinking
And I won't stop now

[Chorus]
And then I looked up at the sun
And I could see
Oh, the way that gravity pulls on you and me
And then I looked up at the sky
And saw the sun
And the way that gravity pushes on everyone
On everyone

[Verse 2]
Baby, when your wheels stop turning
And you feel let down
And it seems like troubles
Have come all around
I can hear your heart beating
I can hear that sound
But I can't help thinking
And I won't look now

[Chorus]
And then I looked up at the sun
And I could see
Oh, the way that gravity pulls on you and me
And then I looked up at the sky
And saw the sun
And the way that gravity pushes on everyone
On everyone

[Outro]
On everyone
On everyone
On everyone
On everyone
Official audio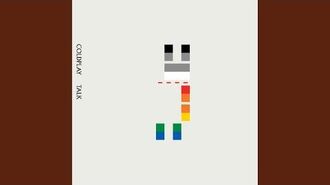 References